*NEW* POTENTIAL AMENDMENTS TO BY-LAWS and Covenants 

There are two files in this folder and the committee will keep them updated as they review.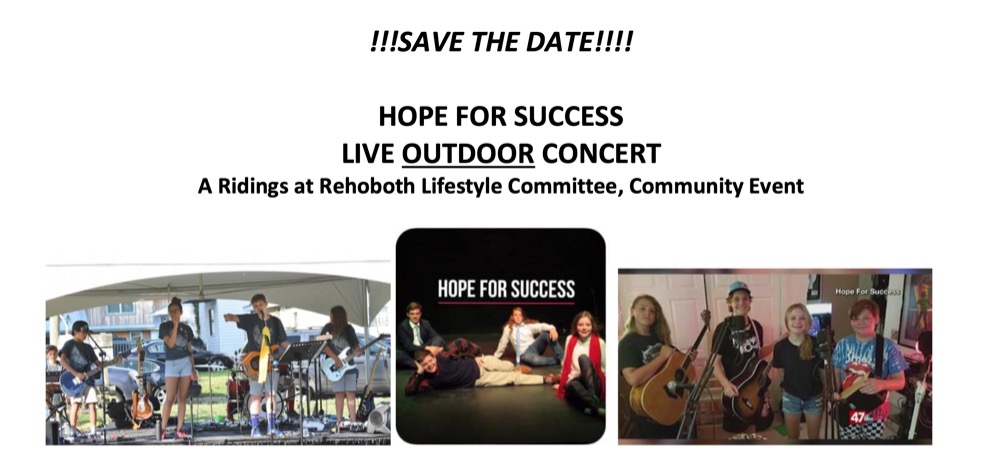 Everyone needs a little "HOPE" right now.  Experience these talented, young, local musicians in the comfort of our own neighborhood.  The "Hope In Your Hood Summer Concert Series" allows us to appropriately social distance, while enjoying the evening in our own neighborhood. "Hope For Success" (click here) is a rock and roll band consisting of young musicians ranging in age from 13-15 years.  Drew 15.  Alex, Elaina and Jasper 13 years old.  Members have been playing together occasionally for a little less than two years but regularly over the last year. 
WHEN: Wednesday, September 16th 5pm – 7pm Rain Date: Thursday, September 17th 5pm – 7pm
WHERE: Parking Lot of The Ridings at Rehoboth Clubhouse (Designated Social Distance Seating areas will be allocated to include closed off portions of Park Pavillion Way)
FEES: The Band is NOT charging a fee to our community.  However, TIPS are strongly encouraged.  The Band donates 20% of all TIPS collected to various charities.  A TIP Jar will be present at the event.  TIPS can be made by Cash or Check payable to "Hope For Success, LLC".  You may also make your tip/donation online by clicking HERE.

Rita's Italian Ice truck will also be at the event with items for purchase.
WHAT TO BRING: Face Masks must be worn with exception for children 2 years old and younger.  Bring your own outdoor seating chairs, food/snacks, beverages, sunscreen, bug-spray, cash or check for TIP and cash for purchases at Rita's Italian Ice truck. A small trash bag to secure your disposables.
Additional Details and an on-line sign-up sheet will be announced in the next few weeks.